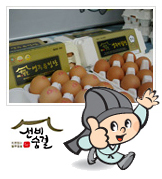 Mt. Sobaek Nepran
These eggs are laid by hens fed with wood vinegar powder and lactic acid bacteria. They provide high Vitamin A, Vitamin B12, and Tocopherol contents and low cholesterol with no fishy flavors compared to ordinary eggs.
The eggs are produced with clean feed in the pollution-free environment of clean and clear Mt. Sobaek, where sanitation is ensured through strict inspections, washing, and sorting processes.
Sobaek Poultry Complex also produces functional eggs using ginseng, another local specialty, to produce red ginseng eggs.
Distribution
Packages of 10 or 30, Sobaek Egg Farm : (054)-637-1407